Welcome to the Nation's Leading Center for Addiction Treatment.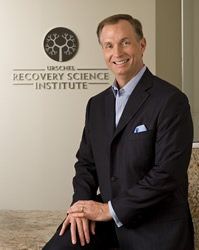 At the Urschel Recovery Science Institute, we understand that addiction is a chronic medical illness — no different from other chronic illnesses such as diabetes or asthma. We specialize in helping you understand and fight this disease through personalized treatment that minimizes disruption to your everyday life.
Leveraging the latest evidence-based science, together with compassionate and practical psychosocial therapy, our unique and personalized approach to treatment is changing the field of addiction medicine.
Led by our founder, Harold C. Urschel III, MD, we have a diverse team of experts with extensive training in state-of-the-art treatment for alcohol and drug addiction. Our patients have immediate access to a full range of leading-edge treatment services, including:
Chemical dependency and psychiatric evaluations
Cutting-edge medication for both addiction and psychiatric illnesses
Individual treatment planning
Outpatient and inpatient withdrawal stabilization services
Customized intensive treatment services
Individual, couples, and marital counseling
Using science-based medications designed to treat addiction is one of the strengths of our approach to treatment at the Urschel Recovery Science Institute.
If addiction concerns you, a family member or a friend, the Urschel Recovery Science Institute can help.
Click here or call our staff 214-905-5090 and take back control of your life.